Nudge Notifier
Easy Slack Notifications for Terminal Commands
---
Remember when you had to pause your lunchtime-Netflix to go check on your terminal?
Or the time you returned from your third midday-nap to a failed build?
We know you hate to baby your terminal.
Nudge automatically notifies you on Slack when long-running terminal commands finish or fail.
(yes, even over
ssh
)
---
Sign up for the waitlist with your work email, and get notified about the release with 278 other developers:
Because you're not your needy terminal's mother.
🏷️
$59 $0 for the first 500 work email licenses.
MacOS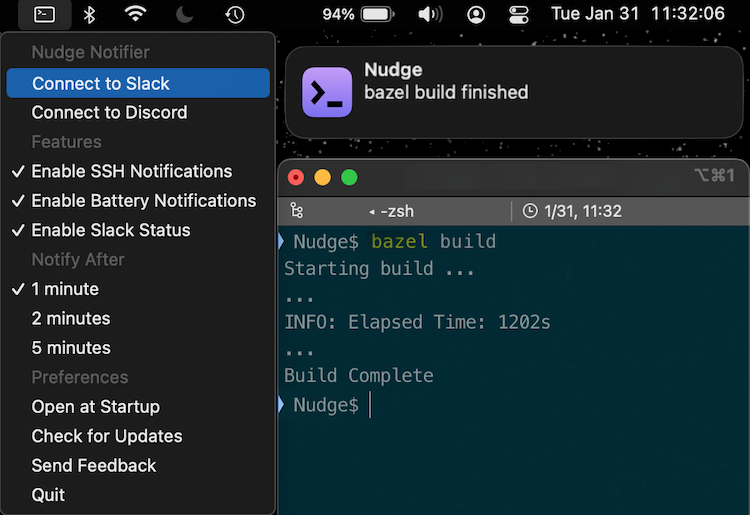 Features
Sits beautifully on your taskbar and runs in the background.
Automatically notifies you when any terminal command running longer than 2 minutes succeeds or fails.
Even for commands running over ssh.
Forwards notifications to the Slack Nudge Bot.
Notifies you if your laptop's battery is running low while you're away.
Saves you precious time so you can go play catch with your puppy.
Coming soon: Notifications for when your scripts/builds are waiting for input.
FAQs
Does my terminal output pass through any servers?
No. No content of your terminal output will ever pass through any servers. We only relay events generated by top-level utilities like ps and top to send notifications. More in our Privacy Policy.
What information do you store, if any?
The absolute bare minimum needed for functionality and security: just your Slack bot's token, webhook url, and the number of notifications sent.
Is Nudge Notifier available for Microsoft Teams?
If your team uses Microsoft Teams, write to us.
In the meantime, might we suggest downloading Slack on your phone as a stopgap.
Do you have a jingle?
Not ... yet.
Why did the chicken cross the road?
To check on her terminal, because they can't download Nudge.
Slack
MacOS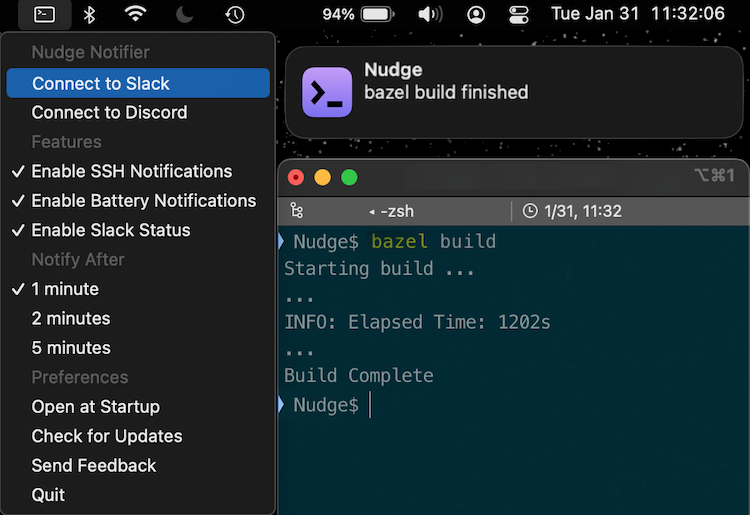 Slack
Want us to send a reminder to your work email?

We get it, you have other things you'd rather do during the workday.
Nudge makes it easy.

No more monitoring long builds at work.